Posts Tagged 'department of tourism philippines'
the london cab and london bus are two of what are iconic  in london . using these to carry the country's tourism message is a very good idea. launching the ad campaign at this time, during the celebration marking the 60th reign of queen elizabeth makes it even more special. london must be full of people during the week long celebration. that will mean more people will be exposed to the "it's more fun in the philippines" ad camoaign.
"It's More Fun in the Philippines" Campaign Debuts in London

3 May 2012 – Philippine tourism received a rousing boost in the United Kingdom (UK) with the rollout of 75 iconic London black cabs and double-decker buses sporting the new "It's More Fun in the Philippines" banners last May 1.

Philippine Ambassador to the United Kingdom Enrique A. Manalo and Philippine Department of Tourism-London head Rosario Afuang saw off a large group of invited officials, travel trade partners, media representatives, and members of the Filipino community who gathered at the Philippine Embassy for the start of a ride on the "More Fun" vehicles around central London.

 The Philippine motorcade travelled through some of London's most famous and visited areas, making an unscheduled stop on Oxford Street – Europe and the UK's busiest commercial district – to allow passengers to disembark and give delighted British shoppers an impromptu performance of Philippine song and dance.

 Upon completion of their trip, Ambassador Manalo feted the guests to Philippine food and drink at the Embassy.

"This is just a sample of what you will experience when you visit our country", he said.  "A culture of fun, beauty and excitement await every visitor. With 7,107 islands, guests are sure to find islands that will suit their adventure, and with more than 90 million hosts, you are definitely going to have more fun in the Philippines."

According to Ms. Afuang, apart from the exteriors of 50 black cabs and 25 double-decker buses, "It's More Fun in the Philippines" images will appear on 75 panels at some of London's busiest underground stations, including Piccadilly Circus, Covent Garden, Leicester Square, Tottenham Court Road and Oxford Circus.  There will also be 30-second "More Fun" ad appearing on 1,400 digital screens onboard London cabs.

The advertisements in the UK are part of synchronized efforts with the Department of Tourism in Manila as it launches a worldwide campaign on CNN International which began last April 30.  The UK campaign will remain in time for the millions of visitors from around the world attending the Queen's Jubilee in June, the Olympic Games in July, and the Paralympic games in September.

The UK ranks 1st in Europe in number of tourist arrivals to the Philippines, and 10th overall.  Over 100,000 British tourists travelled to the Philippines in 2011 alone – an all-time high. END
we are printing here a very good article on what happened to the whole "Pilipinas Kay Ganda" branding exercise by the  DOT. this is an interview with Yolly Ong and Marlene Villapando who are the top officers of Campaigns & Gray. the article gives an excellent view of what happened behind the scenes and how the much maligned lined came to be and not to be.
on a separate post, we will be giving our opinion on this one,.
in the meantime, together with the article were logo studies done by Campaigns & Gray on the "Pilipinas Kay Ganda" concept. we are giving our point of view on them.
here are our views on the logo studies:
we would have not chosen the top one, the one the DOT went with. while that logo showed some character, we think it was not unified and appears  too flighty. we think it's a weak logo.
the biggest reason why we are not choosing it is that it is too close to the Poland logo. to us, it is an violation of intellectual property rights of the Poland logo.
however we do like the images of the tarsier and the coconut tree in there. the tarsier in particular we think is the strongest of all the elements.
we would have chosen anyone of these two logos – logo on the lower left side and the logo at the bottom.
we think these logos are very unified and speaks very well of the "islands" in the country. going to the "islands" we think is one of the key reasons tourists go to a country to visit.
we just have a slight suggestion on the choices we made – revise the rendition of the island to remove the possibility of it being seen an image of a face on its back.
————–
SUNDAY, 28 NOVEMBER 2010 18:56 MA. STELLA F. ARNALDO
Four hours before Tourism Undersecretary for Planning and Promotions Vicente "Enteng" Romano III irrevocably resigned on November 23 from his post, accepting responsibility for the heavily criticized "Pilipinas Kay Ganda" brand/slogan, I was interviewing Yolanda "Yoly" Villanueva-Ong, group chairman of the much-maligned Campaigns & Grey at the Edsa Shangri-La Hotel, on the background of the branding effort.

Several executives of the advertising giant were having a planning seminar at the hotel, and, in fact, I jokingly asked if one of the conclusions from their seminar was, "Therefore, we resolve to never propose a project or have anything to do with the DOT again!" She tittered at this, seemingly unaffected by the storm that she and her agency got caught up in, all because, as she later explains, shortcuts were made, and there was lack of research.

As everyone knows, it was Campaigns & Grey which proposed the "Pilipinas Kay Ganda" slogan—along with four other choices mostly in English—but it was the one in Filipino that struck a chord with Romano and, ultimately, with Tourism Secretary Alberto "Bertie" Lim.

Here Yoly and Campaigns & Grey chief of corporate affairs Marilyn Villapando explain what went on in the making of the failed tourism brand, the reason for the use of Filipino in the slogan, and why they don't consider the logo plagiarized.

So tell me, what usually is the process in creating a new brand, and how long does it usually take?

Ong: Depende rin 'yan kung sino cliente ha. Ang Procter & Gamble ang whole concept can be a year. In fact, planning can take one to two years kasi fiscal year sila. Palagay mo na, second half of the fiscal year, they start doing the planning and this is coming from a long-term three years…mahaba talaga ang vision nila for the brand. And as it comes closer, they flesh it out with programs and then everything, nothing airs without testing.

If you're going to a new market, meron "insight mining" from the consumers. Although Asians, for example, have a lot of universal truths, siyempre me differentiations rin. It takes quite a while.

Of course, not everybody can afford that kind of process. Sometimes we do shortcut it, but always, always, always, before you produce, before you spend one centavo on any production before airing, you test. That is something we will never violate. Even on a 90-day political campaign, ite-test muna namin 'yan kahit pano.

Testing will come from your end or from their end?

Ong: We recommend the methodology. Sometimes we give guideline questions. In our case, we call a bid from among the capable research agencies depending on the scope. They provide a bid in addition to the guides, then we all agree on the final test questions, and in fact, we agree on the format kung ano'ng unang question. In an FDG (focus group discussion), for example, there is a rotation [of questions] if you're testing several concepts. We agree what kind of definitions the panels will be—age, socioeconomic classes. In this particular case [DOT], ang recommendation namin is one group na nakapunta na sa Pilipinas at isang group na 'di pa nakakapunta sa Pilipinas. So that we will see talaga which concepts will resonate with them.

But beyond the logo and theme line, no production has been made whatsoever because the understanding is ipe-preview nila, tapos after the preview, ite-test market. 'Yun ang next step. In fact, we sent them the guide questions and we gave a recommendation na tawagin 'yung three international research agencies because the test will be in North America, our "low-lying fruit"—ang tawag nila dyan—Korea, Japan, China, 'yan ang main markets.

Then meron silang "missionary" markets—Europe and maybe Israel. Pero ang top [markets] based on last year's number of tourists are Fil-migs [Filipino migrants] and Fil-Ams. Then Korea, China, Japan. So proposal namin, we will test the concepts in those markets. Not we ourselves ha, but by a proper research team. Ang recommendation nga namin is to ask a bid from TNS, kasi may international network sila, Milward Brown and AG Nielsen. After we give the guidelines, our suggestion was tawagin nyo yung tatlo para mag-bid.

You did that because they basically didn't have a budget to pay you to do it?

Ong: We would have bid it out ourselves. 'Di kami gumawa ng research. Also because their [DOT] bidding process requires COA [approval].

So what did you really undertake for DOT? Branding? Marketing? Advertising? Ano ba talaga?

Ong: August ba tayo tinawag? (turns to Villapando) August tinawag kami and they were asking—si Enteng [was asking]—if we can do what we call a "brand architecture." If they're going to do a new brand to replace "WOW Philippines," what is the process and what is the strategic approach they can use to arrive at a new brand. So 'yan ang initial request sa amin. So kami naman, 'Enteng 'di pa nga kami binabayaran eh (referring to a P4-million medical tourism campaign Campaigns & Grey did in 2009 for the Philippine Visitors Convention Corp.).

So it was a friendly call na "huy, tulu ngan nyo naman ako…"?

Ong: Oo. In fairness, he asked us naman to try and write out a TOR [terms of reference]. Kasi ang sinasabi nya, after much haggling, the allocation for that exercise, was…(looks to Marilyn).

Villapando: The total proposal is P550,000 plus VAT. That's the process. And the end of that is directional.

Ong: Kasi I was very conscious of the bidding process, kasi alam namin 'yan. Mahirap na, dapat i-bid out, 'pag executional already. And then somewhere along the way….
source of Poland's logo: http://www.poland.travel/en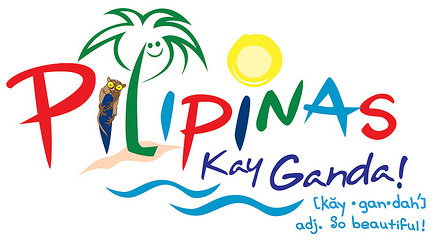 the similarity between the two logos are just too close to ignore.
the fonts are identical – look at the letters "P" and "a"
the letter "l" as a tree is exactly the same idea and a very close rendition
both have waves at about the same location
same use of bright colors
brand character is identical
aside from having the same executional elements between the two logos, the design concept is exactly the same.
there is so much talk, mostly criticism of  the new ad campaign for the country's tourism brand, this will surely add fuel to the fire.
the line was supposed to be the work of Campaigns & Grey Advertising. is the logo also made by them?
it's amazing how a graphics designer can copy  something so closely for a brand that is within the same category – country tourism and country branding. countries are competitive brands, it is rare that one competitor copies the logo of another in almost exactly the same way.   uniqueness is one of the most revered principles of advertising. almost a twin to that is originality. originality and uniqueness were obviously lost on the logo they did  for the philippines.
branding is supposed to set one brand from the other. this logo goes the opposite way. how in the world did the ad or design agency think it is okay to present these logo designs to their clients?
the other part of country advertising is it is supposed to inspire pride  among its citizens. this one does not do that. rather than pride the logo inspires embarrassment.
clearly, this is the ad or design agency's fault. the agency either copied the logo intentionally or they did not do enough research before presenting the design to the client.  unfortunately, it is the client, the DOT who is taking all the flak for their errors.
Categories:
Kahindik-hindik
Campaigns & Grey Advertising, department of tourism philippines, Philippine Advertising, philippine logo, philippine tourism, philippines, pilipinas, Pilipinas Kay Ganda, pilipinas kay ganda logo, Pilipinas Kay Ganda logo is plagiarisim?, Pilipinas Kay Ganda Poland, plagiarism, plagiarism in the philippines, poland, poland logo, Polska, secretary lim, travel to Poland, travel to the Philippines, WOW Philippines, yolly ong